Three Easy Days in Caye Caulker
Why Caye Caulker Should Make Your List
There are so many reasons to put Caye Caulker on your bucket list of places to see in Belize. It might not have the action-packed hikes of the ruins, or the stunning natural wonder of cave tubing. But the simple sweetness of this laid-back island forces you to take a step back, breath deeply and sink yourself gracefully into island life. And come on, who isn't looking for a little of that in their life.
It's almost impossible to fight the chill vibe of this walkable stretch of land just south of the more popular (and more expensive) Ambergris Caye. It's so tiny in fact, that they don't even use cars on the island. Just golf carts. The narrow roads from end to end are easy to walk or jump on a cart. And it doesn't take more than 10 – 15 minutes on a cart to get to the other side from pretty much wherever you are.
When You Land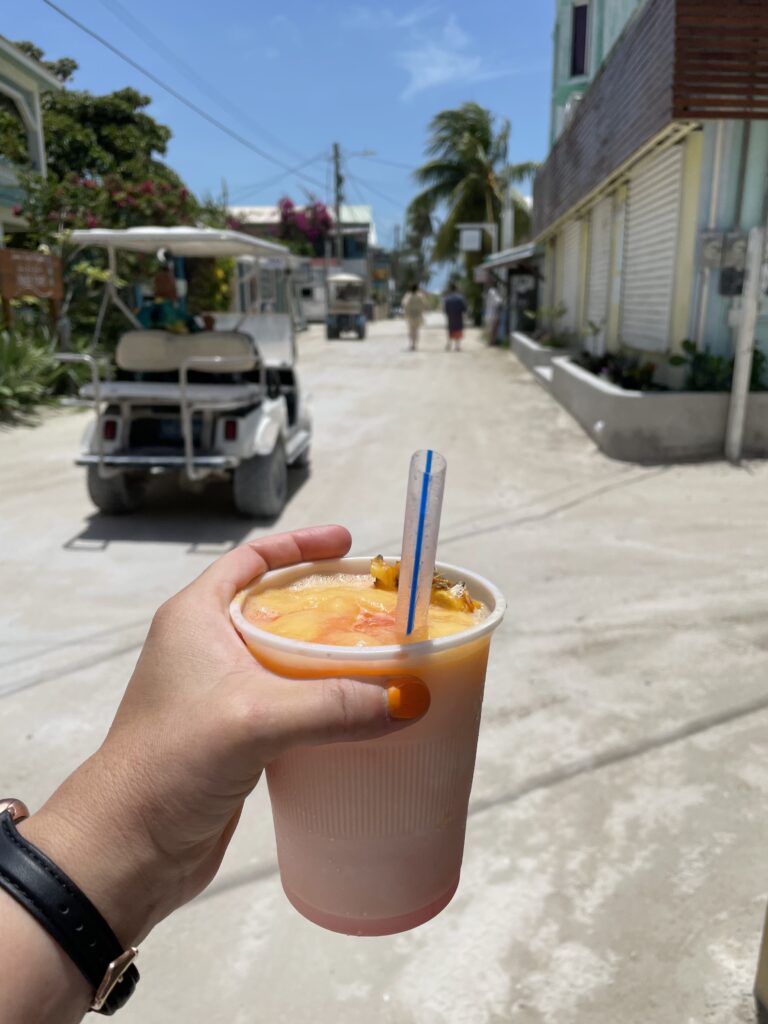 My suggestion is to do an initial walk around to get the feel of the place when you arrive. Order a cocktail in one of the many bars along the water and just head out to see the place. Of course, you'll want to see the main streets first to get a feel for what's available.
All walking drinks photos are compliment of Barrier Reef Sports Bar & Grill. The slushy drinks beat the heat perfectly as we walked around. They were a game changer. Many times over the weekend.
We went in the end of June, so it was pretty muggy during the day. The trick after you get a sense of where things are is to walk the path along the water on either side of the island. Just head in the direction you're going and then cut in on the street you want. The breeze off the water takes the edge off the heat just perfectly and the views are amazing as you walk at your own pace to wherever your headed.
Also see this awesome post from my fellow travel girl at Globetrotting On A Budget when your done reading this post. It's on the best way to get to the island from the BZE airport to the islands. It was a huge help and answered my question whether to fly in or ferry (hint: we flew both ways). We booked through Tropic Air and it was a breeze. It was a full plane with only three of us being dropped off on Caye Caulker before it went on to San Pedro. We also added on our Covid-19 Tests at the same time. It was very easy process (see below for more info).
Where to Stay
In my initial research it was tricky to figure out the best location to stay. Did we want to be closer to the center of the action or off more to the side for a more quiet area? We ended up in the quieter area and I'm glad we did. Nothing is too far to walk there, even if you're closer to the airport. It's also just as easy to call or hail a cab/golf cart if you don't feel like hoofing it. Just make sure to pack comfy shoes. The roads are unpaved to heels would be tricky. Its definitely a flip flop and sandal island.
It's Not a Myth
We also had one of the best Airbnb experiences we've ever had in our travels. And it was all about the hosts. We booked pretty last minute (thank you stand-by stress) and it could not have worked out better. We stayed (here) but they have 2 more units on their property as well. They were hands down the friendliest hosts I've ever met.
He gave us the initial tour of the place and showed us a map of the island. He said he could give us a rundown of places to check out then, or if we wanted to swing by the front house, they could show us over a beer. I loved that he put that ball in our court of how much interaction we wanted or to just keep to ourselves.
We of course went with the latter and met his wife/co-host of the property. It felt like talking to old friends, and they had great recommendations. We even met up with them a couple more times during out stay. They responded quickly to help set up a ride to and from the airports and easily answered any questions we had. 5 stars all the way. I highly recommend them.
So Now What Should We Do?
Since we only had 3 full days on the island I knew I wanted to do some type of activity, some bar beach excursion, and a lot of relaxing.
For our first full day we just wanted to relax and take it down a notch from traveling. I won't go into it here but flying standby is nuts. It always adds an extra layer of craziness that makes even the most even-tempered people need a vacay after.
So where to go then? The beaches in Caye Caulker aren't exactly "soft sandy beaches". To answer the call for one they've made a man-made one. Just a 10-minute ferry ride away called Northside Beach Club (previously known as Koko King beach). I get the feeling from the locals that no matter the rebranding it will always be Koko King to them.
Regardless, it was a perfect day of lounging, floating in inner tubes with a cocktail, and playing on the swings and balance beams over the water. Very Instagram friendly btw. Too bad I was so in the moment I didn't take any pictures of me doing any of these things. I did remember to take a few when we arrived. Very proud of myself.
**Tip- If we did it again, we would try to get there a littler earlier. Cabanas and lounges are limited so if you're picky about where you sit or there's a lot of you, try to get there before noonish. We got there around 2 and it was pretty full. We still got loungers but there wasn't much left.
Our One "Active" Day
Saturday was going to be my birthday and I thought it'd be fun to go snorkeling. As per our hosts recommendations we set up a snorkel tour with Carlos Tours. They were emphatic that it was by far the best tour on the island. After seeing some of the other boats and tours throughout our stay I would agree here. No shame to all the other hard-working tours out there but they totally killed it. It stands out as one of the best snorkeling excursions I've ever done.
First there was the beautiful catamaran we spent the day on. There is the sense of friendliness the crew gives off that makes meeting all the other people on the tour easy to chat with. There was the quality gear that is included that we were actually quite surprised by (considering my past experiences). My fins didn't hurt or give me blisters and the masks actually fit. Even Justin (who has a beard and isn't over the moon about snorkeling) said this was one of the first masks he didn't struggle with as much. The hand made lunch by the crew was delicious. We stopped multiple times in their favorite spots and even lucked out with a Manatee sightings. Overall, it was my favorite day.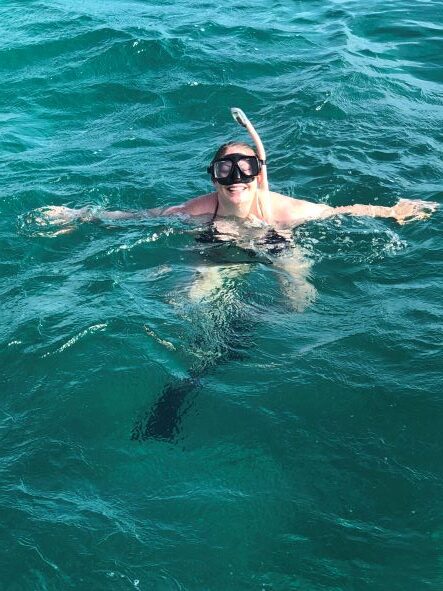 How adorable is this picture on the left? One of my favorites of the day. Just a ridiculous goofy photo of a happy girl floating in the water.
I also loved this one as we cruised back to the island as the sun was setting. Isn't he cute?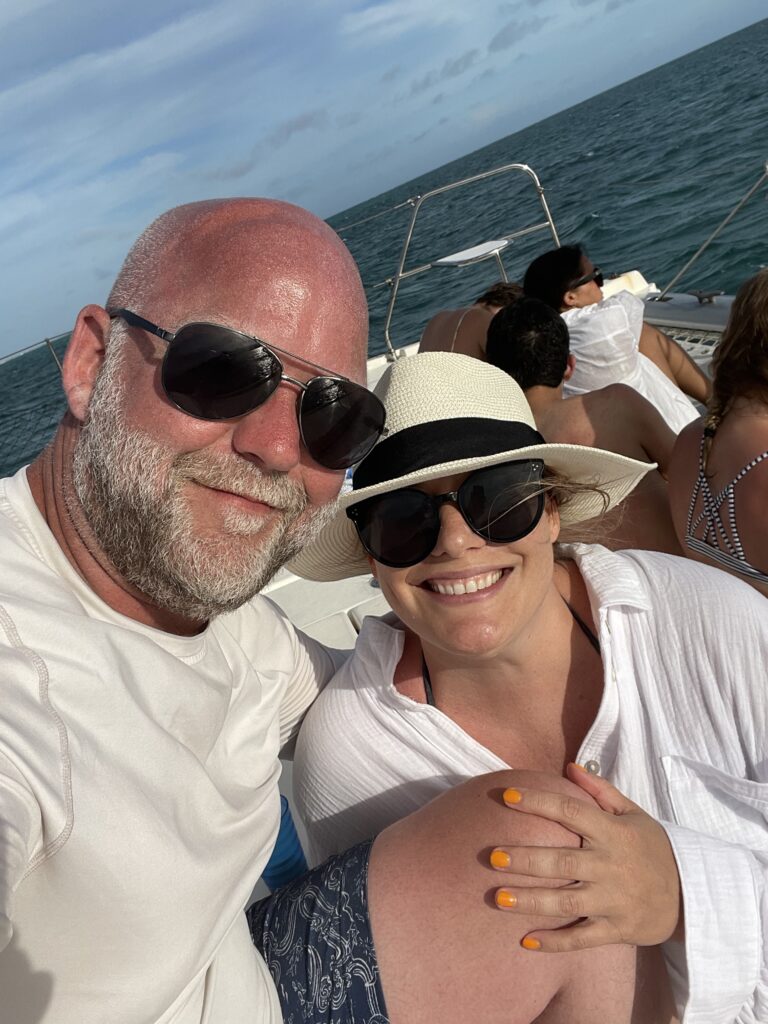 **Tip- Bring a rash guard. I will be making a packing list for Belize soon but if I could give one piece of advice, wear a rash guard while snorkeling. The water is very salty and buoyant. You barely even have to try to swim. Unfortunately this means that your back and booty will be bobbing out of the water while you lazily watch fish swim by. I got a scorcher of a burn and have bought 2 rash guards since then. I learned my lesson. Let me learn it for you as well.
And Now for the Food!!
If you're just getting to know us, we are big foodies. So the adorable irony of when we were there, the day we landed, was the last day of Conch season. But!, they decided they were going to push out lobster season a few more weeks instead of the next day, like normal. Thanks Guys!! We were so bummed we couldn't try any of the famous spiny tail lobster they are so known for. But at least now we have an excuse to go back if we need one right?
Thankfully, Justin was able to try conch for the first time as we snacked on a mid-day cocktail and some ceviche at (here) our first day. There really is no shortage of ways to try the local fish. I had a beautiful branzino Snapper at Hibisca on Friday night that was amazing. You can also get pretty much anything grilled at one of the street venue/set-ups like this one. Our lunch on the water of grilled chicken, skewered shrimp, rice and a crunchy slaw was so tasty, perfectly filling and you really can't beat the views.
Random Funny Story:
When we sat for lunch the sweet girl pulled up a couple of wicker chairs and a small table under a coconut tree along the water with amazing views while we waited for out food. Sounds ideal, right? So a guy comes up to us and asks if we want a fresh coconut w/rum with our lunch? Um, heck yeah? As he's prepping our coconut he looks up, runs over and tells us to get up. He proceeds to move our lunch furniture all while looking up. "I've been working with coconuts my whole life, man. I know when they're going to fall".
So, did one fall you ask? NO!! The whole time we ate I was convinced one was going to fall. Even though I didn't see it, I'm still convinced he saved a life that day. And whoa, he made that drink strong!
Some of the Best Italian Food We've Ever Had Was in…Belize?
Our first night we were pretty exhausted from traveling so we decided to take the suggestion of our hosts and go relax and listen to some live music at Southside Pizza. It was apparently the thing to do on a Thursday night. And they were right. We ordered the "Spinners" per everyone including the owners suggestion and they were AMAZING! I highly recommend the combo option with extra cheese on top. Add to that a couple of cold Belkins and we just immediately fell into vacation mode. I still think about those spinners to this day.
Hand Made Pasta? Yes, Please.
Because they clearly knew what they were talking about we also heeded their advice and booked a reservation at Pasta per Caso for my birthday dinner for the following night. A very sweet couple runs the place and it fills up quickly so make sure to make a reservation. Ideally the day before. There is a limited menu of two pasta dishes a day, one meat friendly and one vegetarian option. The key to the success of this place is that the wife makes all the pasta by hand, hence the limited menu. And when it runs out, its out.
We ordered both dishes available that night along with a melon and prosciutto appetizer. Everything was SO delicious! While my man is a big meat eater, we both unanimously agreed that the vegetarian was our favorite. It's different every night but there's always something fun to try. There was live music in the corner and a very friendly ambiance as locals are sat with tourists who chat away and get to know each other. The simplicity and quality of the food there reminded me of Italy. It was that good.
Which Brings Us to the Last Day – Sunday Funday at the Split!
I would be remiss if I didn't mention the famous area called "The Split". After Hurricane Haiti the hand-dug channel between the northern and southern part of the island widened. It became a handy swimming hole for tourists and businesses boomed. Now they just refer to it as the Split.
It's a fun area with a party vibe and great bars. The most popular being "The Lazy Lizard" along the edge of the water. Often there is a live DJ at some point of the day or on weekends. And tons of seating all around. It's also where everyone goes to play on Sunday Funday.
Adulting First
Unfortunately, we had to get some errands out of the way. We had a lazy morning with finally trying some fry jacks at Errolyns House of Fry Jacks that I had heard raves about. You can try them at many places on the island, but this seems to be the local favorite. Fry jacks are crackly crepes filled with all kinds of different ingredient combos on the menu. The Chicken/Egg/Cheese/Bean was our favorite. We even ordered another to have as a quick breakfast before we headed to the airport for the next morning. It came in handy as we packed.
We dropped off some laundry for pickup later that afternoon at one of the many handy launderettes (our travel clothes needed a wash for our Monday flight). Got our Covid tests (see Covid tip below) out of the way and strolled down to check out the action.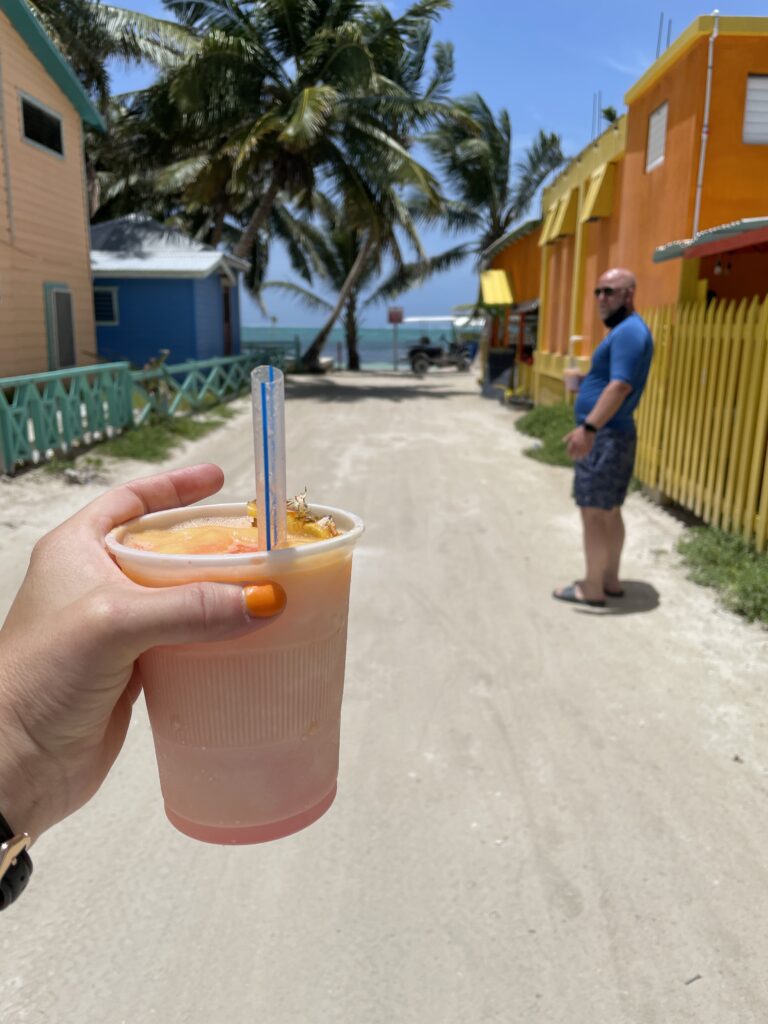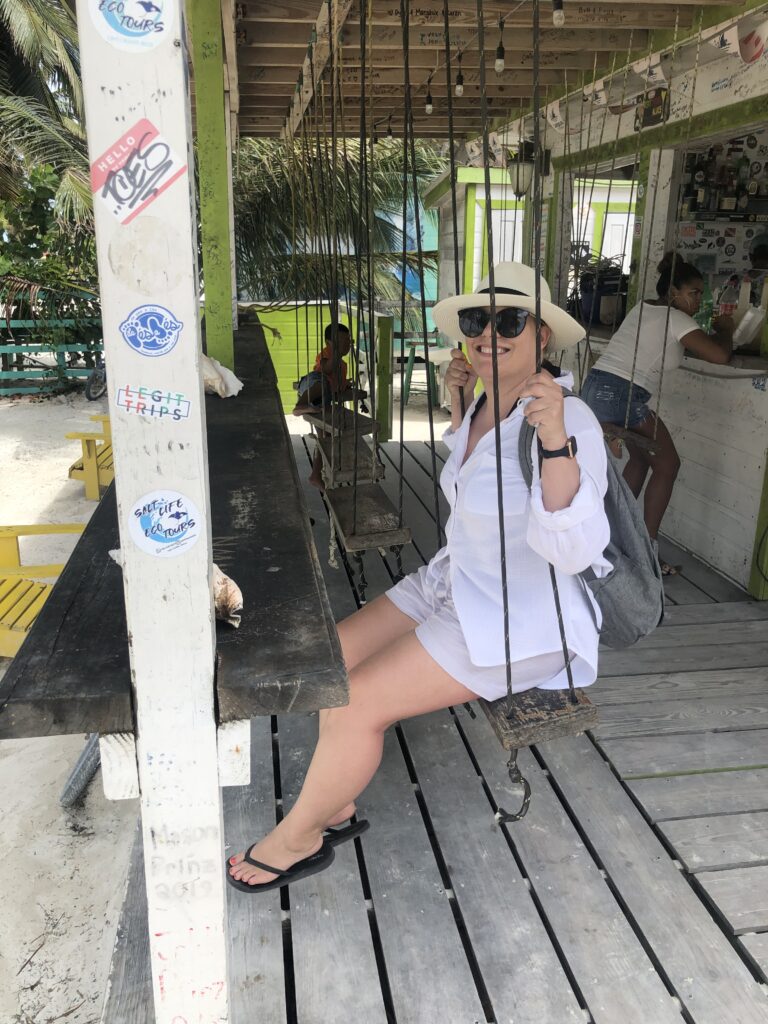 Then Playtime
And action packed it was. For as quiet and calm as the island had felt all weekend, it was hopping. People swimming in the lazy drink pool. People jumping off the landing. The bar was packed, and the drink menu is huge.
We ran into a lady that had been on our snorkel tour and chatted with her for a while. This will always be one of my favorite things about traveling. Speaking to new people and getting to know their stories over a shared experience is just humanity at its finest.
We had some trouble finding an open restaurant on Sunday evening that was on our "To Try" list (again, see covid tip below), so we ended up wandering into a small place off the beaten path that unfortunately I can't find the name of but it was really tasty. Belizean food is a very interesting mix of Caribbean, Peruvian and Spanish with many other ethnicities sprinkled in. At least this is exactly how my friend from Belize described it. It's a little bit of everything that makes its own thing.
And I couldn't describe it any better myself. He tried a traditional curry and I had the grilled snapper. It was delicious and simple. Perfect for our last night.
Bonus Tip-Covid Edition (Updated)
Covid is still a real threat to a lot of small Caribbean Islands. Mainly so because the smaller ones don't have major hospitals or equipment if a lot of people get sick. Except they rely heavily on tourism in their small economy. There are still a lot of restaurants that are not open yet or run at limited hours of operation. And they still take masks pretty seriously there. While we were there in June of 2021, my research tells me that they are still in the same mind frame as they try to keep locals and tourist as safe as possible due to Delta. Be patient when making reservations or dealing with limited staffing. They are just trying to do their best and reopen.
They ask that masks be worn unless sitting at your table. Even when walking down the streets if possible. You must have a valid vaccination to enter when you land, and we were able to set up our return test through Tropical Air when we booked our flight into the island. I received an email, and it was easy to book an appointment for the day before we left so we could enter the states again.
There was also a stand on the main road to get tested if you needed one or hadn't booked one yet. They make it pretty easy, so it doesn't interfere with your vacation. Our appointment came to where we were staying late-morning as scheduled and we were done quickly and off to lunch in no time.
Please Hold a Few Night in Belize for Caye Caulker
Of course, there are many ways you can go about seeing Belize. And Caye Caulker could easily be done on a day trip or two. But to be honest, this was our first trip since the pandemic that shall not be named all happened. It was so fun to be out and about again. We didn't really want to do a huge list of seeing all that there could be seen. We wanted to ease ourselves back into travelling gently. Caye Caulker's vibe, pace and approach to simple island living is exactly that.
The fresh perspective of traveling after the pandemic, even while pieces are still moving as we try to figure out what life looks like now, was such a nice reminder of what I am grateful for. Human connection is important. Keeping people safe is important. And if we can look after each other as well as ourselves, the world will open back up and be brighter that it was before.