What to Pack for San Francisco
How I Love Thee, Let Me Count the Layers
Anyone who has ever lived or even visited the beautiful city, when asked what to pack for a trip to San Francisco will immediately answer emphatically "LAYERS!"
And they're not wrong. The trick is bringing the right type of layers. This doesn't mean bringing the largest piece of luggage you've got and try to be prepared for everything. It's all about lightweight but very warm layers that fold neatly into your bag or carry-on so when Karl (our adorably named fog with his own Instagram feed) rolls in, you're ready for anything.
You Win Some, You Learn Some
I lived in the heart of the city for 19 years. Which by SF terms is a literal lifetime. I moved there in my early 20's, finally conceding to the gorgeous little town of Pacifica just 20 minutes south just recently. In some ways I'm a total expert in dealing with the microclimates of the city. In other ways, I'm still just a newcomer, getting it wrong and freezing my butt off. Why, you ask? Because for some reason you'll always forget and be an optimist. Hoping for a warm day all throughout or being just so in the moment of what a beautiful day it is that you forget it can turn on you in a second (snap!)
That sounded harsh, but I say it with love. The fickleness of this stunning city and its temperature changes will leave you chilly and confused. Or sometimes sweating and befuddled. You can never truly trust the weather app because you might be on top of a hill shrouded in fog while just 5 streets down, they're all hanging out in t-shirts and sunglasses.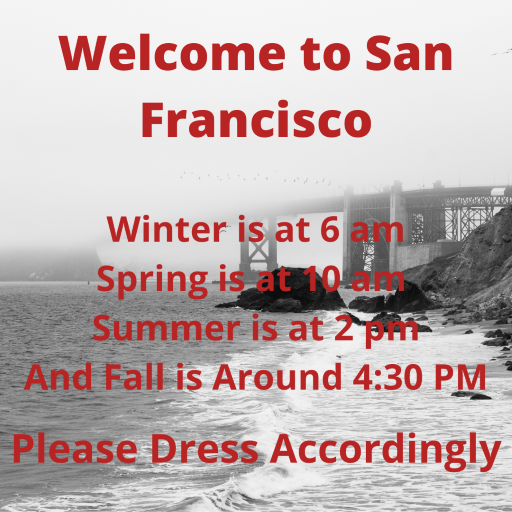 What is this, Opposite Day?
There's some truth to the famous saying "the coldest winter I spent was a summer in San Francisco". Locals are well familiar with the obvious touring family in oversized sweatshirts saying, "I Heart SF" and short shorts. Huddled together in the wind while waiting to cross the street to whatever touristy thing they're headed to. I feel for them.
It's California, it's supposed to be sunny and warm. Especially in the summertime (our baby winter). It's supposed to follow the seasons of the rest of California. Unfortunately, no. SF tends to have Indian summers starting late August thru to mid-October (when I suggest visiting our city the most). We can have gorgeous sunny tank top days when the rest of the country is freezing. We can be making stew as we watch the rain fall and across the bay, they're bbq'ing. You just must be ready for anything.
And Here Begins the Art of Layering:
What is On the Itinerary
As you start to pack it's a good idea to consider your plans that you know of so far. If there's going to be a lot of activities such as hiking, biking, etc. then of course you should bring the stuff that suits those sports. Then always throw in a few warm pieces you might want to add if the weather turns or for after when your grabbing lunch or whatever. Dressing up for the symphony or an event? A shrug works great for the wind chill as you come an go. Always err on it being on the cooler side and lose a layer or two if it gets super warm.
The Basics
There are always the favorites that you bring everywhere of course. And it will depend on the duration of your stay. That being said, a carry-on and about 4 days worth of outfits is pretty perfect for a long weekend SF stay. You can always do a quick wash of a few items if needed. And because the focus is on layering, its easy to make outfits look a little different with a few accessories or combo switch up. A suggested rough draft of packing for pretty much any time of year would be the following:
2 Pairs of Pants
1 Pair of Athleisure-wear Leggings
Maybe a dress or two for a night out or stroll when its sunny and gorgeous
1-2 Tank Tops
1-2 T-Shirts
Two Long Sleeves (See below for one of my favorites)
1 Knit Sweater
1 Zip-up Hoodie or light athletic jacket
And a neutral medium coat would make you pretty prepared for everything.
The Puffy is Everywhere Here
Most people in the city sport a medium to heavy puffy jacket. You'll see them everywhere. They're lightweight, can be rolled up pretty small in a suitcase and be handy at all the random times of day a wind chill might pick up. Its not uncommon to be warm in a tank top drinking wine in the sun at 2pm when a cloud suddenly rolls over and the temp drops and you throw on the puffy. Only for an hour later to turn blue skies and spiked temps. It's weird I tell ya.
This might sound like a lot or a little depending on your packing history. I do tend to pack lightly, but this also doesn't account for shoes, a scarf, etc. If I was doing a long weekend in the city this is exactly what I would pack. I feel like I'd be pretty ready for anything the city wants to show me weather wise.
The All-Day Event
It's also a good idea to have a rough estimate of how long you'll be out and about. Say for instance that I had a day event, but I knew it would probably turn into dinner and drinks later. I always had a long sleeve or a sweater rolled up in my bag. Scarves are easy to tie around the strap of your bag and come in handy if a chilly wind picks up.
I once threw a pair of knit Uggs and a beanie into a giant bad for a music festival in Golden Gate Park. It was a scorcher that day and my friend teased me for lugging it around, but the minute the sun went down you could see your breath it was so cold. I tugged my boots and beanie on and was happily dancing to the final show while the crowd was shivering around me. It's all about being prepared, baby.
Going Out at Night
This one is always the trickiest. You want to be prepared but not bogged down by heavy coats and big bags. If you're just going to dinner and maybe a cocktail or two after, then a nice coat is all you need. Unfortunately, with outside dining now its become a little trickier. A coat is always a good idea and I still recommend an extra scarf in case the restaurant doesn't provide blankets, or their space heaters aren't cutting it. Some nights are warm enough they don't even turn them on, but if it gets chilly have a layer to drape across your legs. You'll be thankful you did.
If it turns into a killer girls night and you're hopping from bar to bar a small jacket is usually all you'll need as you won't be outside for long and it's easy to carry or check.
It's All About the Crossbody Bag
Of course, if you're a fancy purse gal then I get it, it's all about showcasing the bag. No shame. If I spent a pretty penny on one, I would show it off as well.
Practically speaking though, the crossbody bag is perfect for playing in San Francisco. I don't even mean a huge saddle bag either. Although this one is always my favorite for big outdoor events. But even a smaller one that can hold your phone, a wallet and a small rolled up layer can be perfect. It's nice for having your hands free to take all the pictures and eat all the foods.
Side Note
Also, it is not advised to rent a car in the city, they're a hassle to park and get broken into on the daily. Its actually a huge problem for the city. Plus, you don't really need one. There's plenty of public transportation and rideshares available. Of course, this means you can't leave stuff behind in the car. With the right bag though, you can Mary Poppins your way around all the different neighborhoods without a care in the world.
Now For the Shoes
I feel like after the last couple of years of barely leaving our houses that the idea of heels sounds atrocious. It's even harder to imagine in a city that's built for walking. Of course, there are always exceptions. If it's all about being fancy and there's going to be very little walking, strut those heels.
Just be aware though, a place that looks two blocks away on a map can be uphill the whole way. Or walking to a near by bar after dinner might be a long 3 blocks away -all downhill. Comfy shoes are key in this city. We used to throw flats in our purses for after the bars. Nowadays, most people just wear the flats out. Cute tennis shoes are seen everywhere.
Hence the Name
It doesn't really matter anymore, as most people just want to be comfortable. Throw a pair of heels in for the right outfit or occasion. But you'll be glad you focused on comfort after walking to all the fun things during your stay. Remember, San Francisco is only 7×7 miles big. Hence the name of our very popular magazine. Everything is pretty close and really far away all at the same time. The right shoes can be a game changer in how much of it you get to see.
I also wear flip flops pretty year round here. It's a personal choice. As you get used to the weather, and as long as it's not gonna rain, you can totally sport flips pretty much all the time. It's not uncommon to see a girl in parka and slides. I'm probably just confusing you more, but that's the point. It's just a heads up that there are no rules here except one. Be Prepared.
And Last but Not Least, Accessories
Again, if you haven't picked up the theme of this post yet, it's all about the creative layer. When trying to figure out what to pack for San Francisco, no matter what time of year it is, just be ready. The beauty of this is that it give you an excuse to where your favorite accessories that it might be inappropriate back home. Have a favorite beanie, throw it in. Even if its July. You never know. Coming in November? Bring your favorite sunglasses cause you'll no doubt have a beautiful sunny day to bask in. Maybe in park, with some wine. But have a sweater, just in case.
A List of My Favorite Things.
So in summary, focus on light layering, great shoes, and a Mary Poppins bag you can bring to any neighborhood. Below is a list of items that are always in rotation in my closet. They are coastal Bay Area must haves.