Three Days in Oaxaca Guide
Below is our three days in Oaxaca guide for anyone that's planning a quick getaway and needs a little direction. In my opinion, Oaxaca is simply one of those special little cities that are disarmingly charming. I wasn't expecting to be as taken by this city as much as I was. When we were deciding where to go, I was much more in the mood for beach and water.
Unfortunately a crime wave and limited days to travel were not in our favor when figuring out where to go in Mexico for a quick weekend getaway. That's when a close friend mentioned Oaxaca.
While it's not even remotely close to the ocean it was supposed to be a foodie paradise which is totally our jam. I immediately delved into researching. We knew we'd only have a short time there so it was important to figure out a few must do's and we'd let the rest ride as we wondered around.
I loved our long weekend there. I think back to it often. Had we been there longer there were a few things I wish I could have done differently. Or added on which I'll talk about later but overall. This culture rich city is full of adventure for the pallet and mind and I cannot suggest it enough.
A Guide On Where to Stay
We landed in the Oaxaca International Airport and shuttled our way to our hotel which was maybe a 25-minute drive. We were booking pretty last minute since we are never sure just how our standby flights are going to pan out and always look for a flexible cancellation policy. I also wanted something very central. I knew we would be wondering and walking to most of the restaurants and bars for the next few days.
We ended up choosing the Hotel Marques del Valle. It is one of the more older and well known hotels in the area. If location is important to you this hotel is VERY central to the action. And by central, I mean it literally hangs over the Zocalo Square where a lot of the action is. It's also shimmied up next to the Oaxaca Cathedral and a 5-minute walk to many other landmarks like the textile museum, the theatre and the Benito Juarez Market for example.
Right in the Heart of it All
There was a huge festival going on as we checked in right beneath our window. It was fun to people watch from our room as we decompressed from traveling. So, for proximity alone this hotel hits all the marks. As far as luxury goes though, it's definitely a more dated hotel.
On three day weekend trips we don't tend to stay in our room that much, therefore affordable cost overrules luxury accommodations. It met our basic needs perfectly for sleeping, showering and being close to everything. Was very affordable, and the staff were sweet and always happy to help or answer any questions.
If we ever went back though, I think we'd get an Airbnb more north of the Centro and closer to the Church of Santo Domingo de Guzman or in the La Paz area. It was quaint and the streets were adorable. Lots of great restaurants and bars to choose from without feeling super touristy and crowded. It was where we spent most of our time before walking back to our hotel.
Day One
Our first night we were pretty tired so we wanted a small bite to eat and a few cocktails before crashing. We meandered down the street and stumbled upon El Destilado. It was this funky baroque inspired restaurant and bar. I would highly recommend it for either dinner or just a quick cocktail.
It was pretty late and they had stopped seating for dinner but we were able to order a few yummy appetizers and some insanely delicious cocktails. The staff were super friendly and the entrees going out looked amazing. We actually came here twice on our trip for the cocktails alone.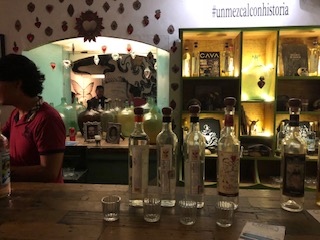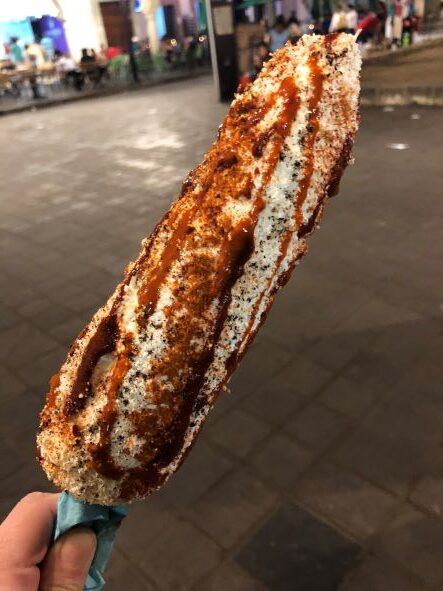 Isn't this just the prettiest pic of a piece of corn?
In Oaxaca it's all about the Mezcal
If you know anything about Oaxaca it is all about the Mezcal there. Mezcal is an agave liquor that has a distinct smoky flavor. If you're a tequila lover this stuff is next level in my opinion (hint, I love tequila). Oaxaca is famous for their Mezcals and take great pride in their artisanal styles.
You will see tiny shops all over just for Mezcal tastings and some good conversation. In fact, this was our next stop on the way back to our hotel. A small single tasting room where we tasted a flight of the El Cortijo brands line. It was full of information and history on the process of making it. The guy pouring was enthusiastic and fun to talk to and it was interesting to see which ones were my favorites and which ones Justin preferred.
We also stopped to grab an Elote corn from a vendor outside our hotel in the square as everything was winding down. It was as good as it looks and probably my favorite photo from the trip.
Oaxaca Guide-Day Two
The next morning was loosely planned but first and foremost was acquiring coffee. Everywhere we got coffee was delightful in this city, but our favorite was from Café Brujula. Apparently, it's a mini chain that focuses on working with small local coffee producers. We both liked the mocha's the most since they were made with rich Mexican chocolate and not overly sweet. They were addicting.
So Many Markets
After "mission caffeine" was complete we walked over to the Benito Juarez Market to wonder around and eventually get lunch at the 20th November Market. I had heard it was a little tricky to find and we were so starving that we ended up eating at a little stall in the first market.
They had really good looking Tlayudas, also known as "Mexican pizza". These are large thin tortillas crisped on a hot griddle with loads of toppings and melty chewy Oaxacan cheese. A must try if you want to add another item to a foodie bucket list.
We wondered around some more looking at all the beautiful spice mounds and leather goods. We only took a few pics and asked permission when we did but it really is a gorgeous mix of everything you might need. One of the other items that Oaxaca is famous for aside from their cheese is their mole'. So many kinds of mole'. We debated how well some would travel home with us in our little carry-ons. Ultimately deciding on the traditional negro mole (cocoa based) that the sweet lady insisted would travel just fine (and it did).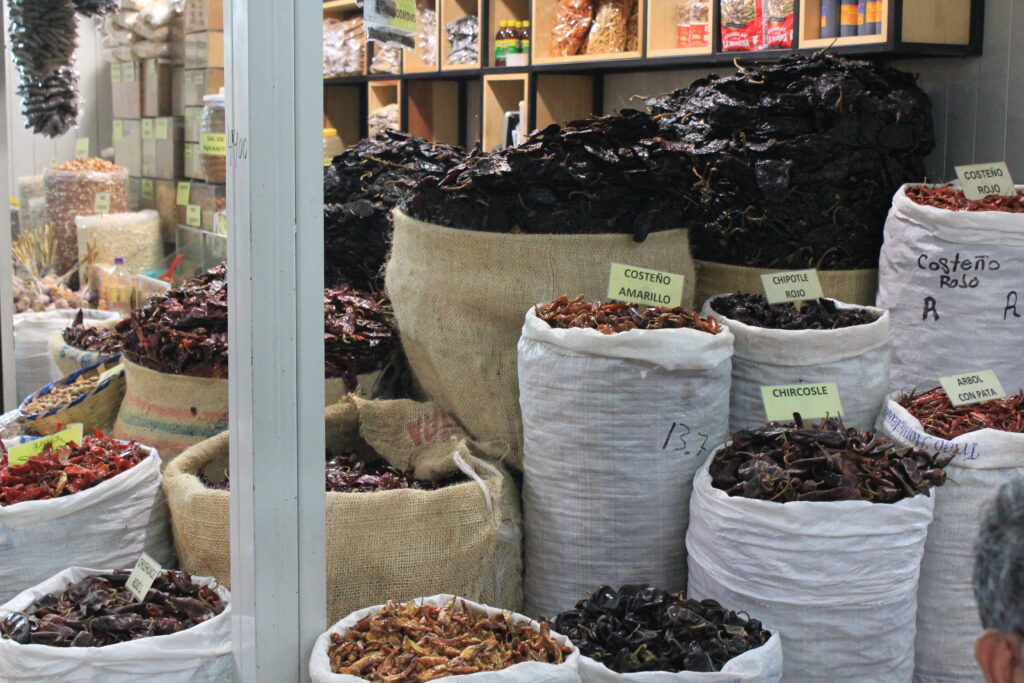 We then finally discovered the 20th November Market (named after the start date for the Mexican Revolution) after crossing the street and asking a vendor. If only we could have held out a little longer. This is the place to eat lunch.
As you approach you are hit with the smells of every grilled meat you can imagine. The sounds of laughing and conversation are at war with all the sizzle of the stalls competing for your order. It was slightly overwhelming but in a good way. We were so bummed we were full. Make it a mission to get to the food market first and then walk off your meal as you walk through the wares market. Its how we would attack it if we could do it again.
One Epic Dinner for the Records
Definitely check out some art while there. We visited a few art galleries since the art scene there is unreal and took a small nap before getting ready for dinner. I wanted to be on point that night. We had booked a reservation at the Pitiona Cocina de Autor for the evening. I was really excited to try this place as the reviews were all outstanding. It turned out to be, by far, one of the most amazing dinners we've ever had.
We decided on the seven course tasting menu with pairings. What followed was an insanely well thought out pallet challenge with pairings of beer, wine, and cocktails that complemented each dish perfectly. The pours weren't so big that we couldn't finish or lose taste for the meal and the dishes were these beautiful plates of color, texture and homage to Oaxacan cuisine. Even the aesthetics of the restaurant were minimalistic and clean, but still warm and inviting.
Oh, and the service was outstanding. After all was said and done, we were shocked to see the bill was so resonable. Maybe being from the Bay Area has truly jaded us, but that dinner at home would have easily been $500 if not more. It was a bougie splurge for us but SO worth it. If you want to treat yourself while your there, I highly recommend Pitiona Cocina.
Day 3-The Last Day
It's our turn to cook
The only thing I had truly planned for the whole weekend was a cooking class I had found through TripAdvisor. We took a cab that afternoon to another larger market in a different part of the city where we met our instructor for the day. It turned out to be us two and another couple traveling with their daughter.
He was great at making us comfortable quickly and made sure to ask if there were any diet restrictions or allergies he needed to be aware of. We decided on a menu and went to task shopping for all the items we would be needing. Also showing us some of the local foods and items that made Oaxaca special (fried crickets anyone?). This market was much more specific to locals and I was glad he was there to haggle the prices in Spanish and handle the shopping. My California Spanglish wouldn't have held up at all.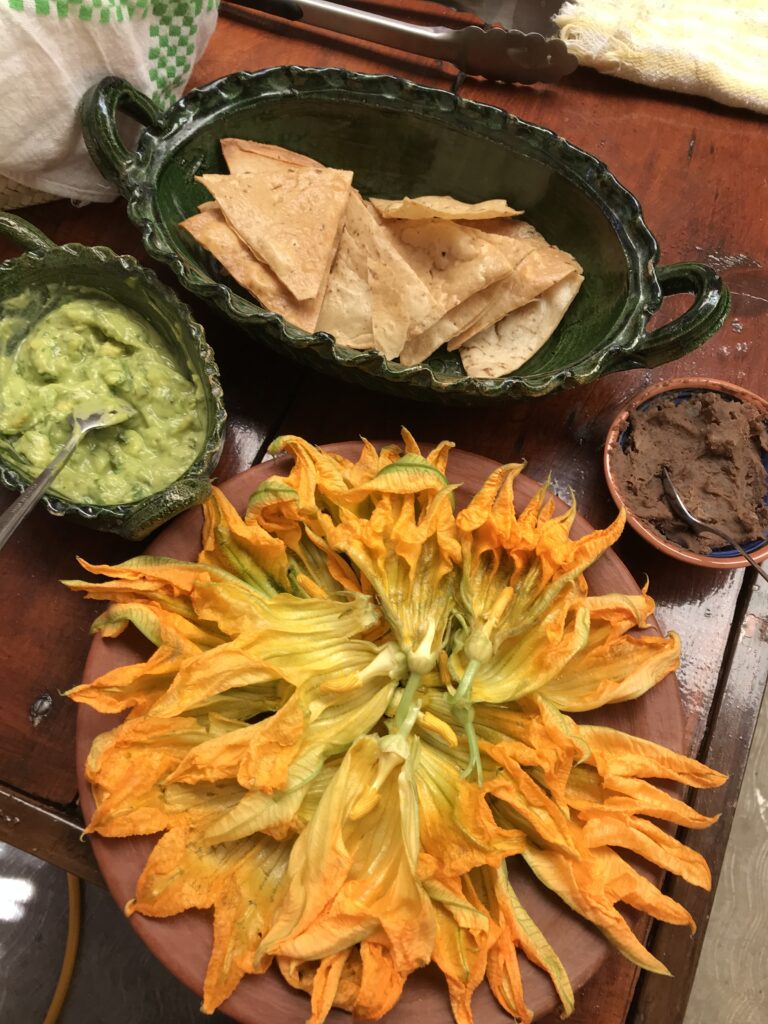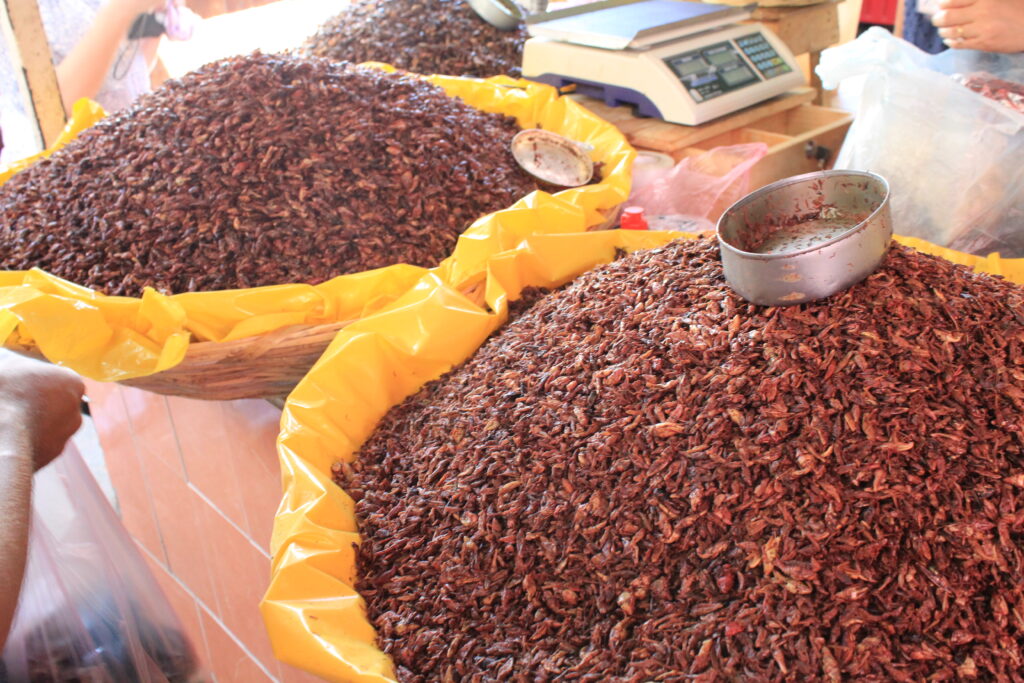 Our instructor was a sweet guy named Alfonso who did his studies in Oaxaca, Mexico and then decided to run a small cooking class from the family home after. They had converted the garage into a large kitchen with everything needed for groups and multiple cooking projects.
This was such a fun class. We made a green mole with pork that was outstanding. Appetizers with grilled cacti and beans and munched on chips, salsa and guacamole while chatting and getting to know each other. He was accommodating to everyone's cooking skills and I found myself wishing I had taken more classes like this when I had traveled solo. It would have been perfect.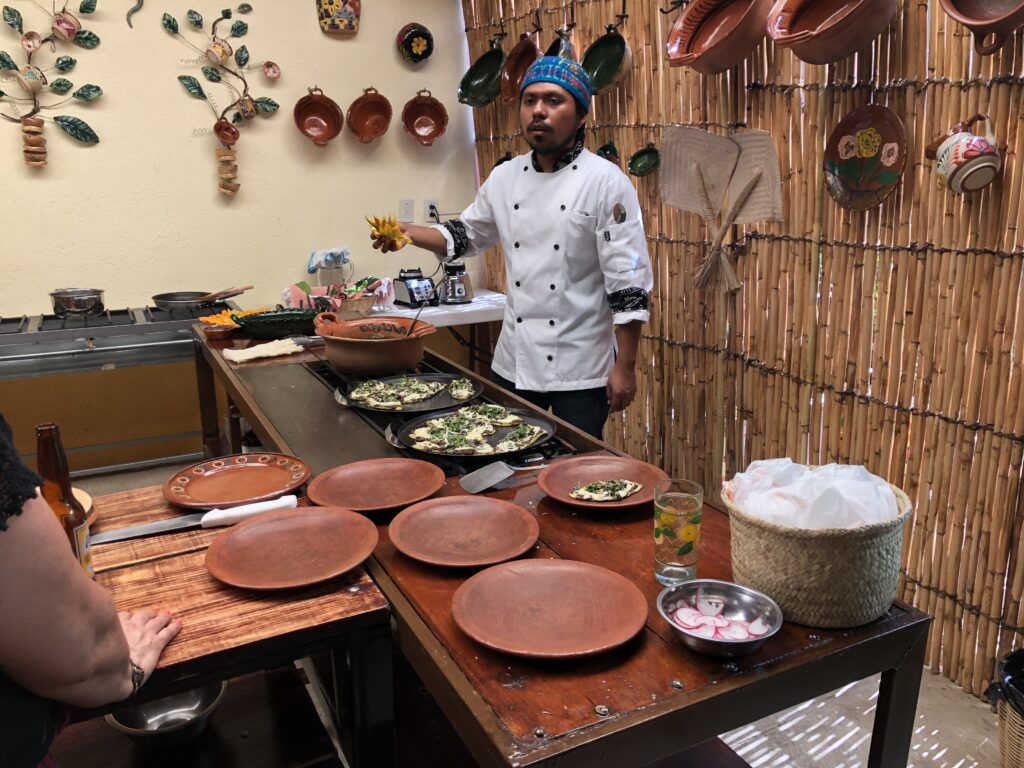 Our instructors father had been in and out serving drinks and Mezcal to anyone that wanted to try some. He took a shining to Justin and they joked and laughed the whole time going back and forth. The whole family and setup was adorable. We learned a few great recipes but more than that we made a really nice memory of cooking with strangers. Just click here for a link to his class and reviews if you're curious about booking a class with him.
Make Room for Treasures
We relaxed the rest of the day and wondered through an artist market in the tunnel and some textile stores. I longed for more time. I would have loved to see the textile museum and done a Mezcal distillery tour outside of the city if there had been an extra day.
The art scene had me mentally redecorating my entire home and wishing I could start over with the simplicity of the artisanal stucco structure and craft inspired rugs and pottery they are so renowned for.
I'd be lying if I said I wasn't thinking about buying a second suitcase to send home all the cool stuff I wanted to bring home with me. Which is totally unlike me by the way. I'm lucky if I remember to come home with a magnet usually.
Oaxaca Stole a Piece of My Heart
You genuinely cannot go to Oaxaca and not walk away with a newfound love of something. Whether it be a new mole recipe, a new respect for the beautiful artistry in textiles, a desire to try all the mezcal cocktails you see on the menu or just the simplicity of sipping a perfect cup of coffee in a brightly lit courtyard. You will leave with a new favorite of something. I guarantee it.